Three Las Vegas resorts now back to full capacity
Cosmopolitan, Encore Las Vegas and Wynn Las Vegas all back to normal post COVID
Approval was given by Nevada Gaming Control Board
Cosmopolitan showed at least 80% of staff had received one vaccine jab
Social distancing and plastic barriers removed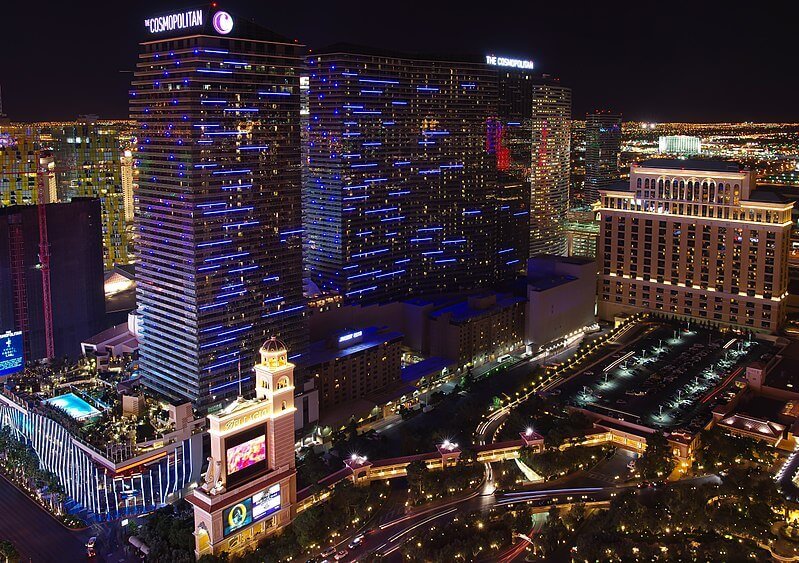 Three key Las Vegas Strip resorts now have the green light to return to 100% occupancy rates.
The Cosmopolitan joins the two Wynn properties – Encore and the Wynn –given the green light on Monday.
With visitors returning to the capital of gambling in Nevada, the capacity openings confirm things are beginning to return to normal once again after the devastating pandemic.
Nevada's Gaming Control Board lifted all restrictions on the Cosmopolitan after the resort's financial inducements led to more than 80% of staff receiving at least one COVID vaccine jab. Board chairman J. Brin Gibson praised the resort for its "smart and swift action".
Plastic screens removed
That team effort means the property can now lift all social distancing measures and remove plastic screens from the gaming tables.
The incentive scheme was praised by Nevada Governor Steve Sisolak, who said: "Congratulations to the Cosmopolitan Las Vegas on this achievement and for taking a creative approach to incentivise health and safety within their workforce.
"I look forward to continued efforts to ensure all Nevadans who want the vaccine have access."
KTNV Las Vegas, one of the local television stations, had claimed last month that the Cosmopolitan had been willing to share a $1 million cash bonus with its staff if 80% of them had their first vaccine injection by May 1.
Vaccination success
Earlier this week, both the Encore Las Vegas and Wynn Las Vegas returned to 100% capacity after showing that 90% of Wynn employees had been vaccinated.
William McBeath, President and CEO of The Cosmopolitan, said: "We believe the only clear path to normalcy and bringing our entire workforce back is through vaccinations."
It is expected that other Las Vegas resorts won't be far behind in getting operations back to pre-COVID levels soon.
And it's not just Nevada that is stepping up – New Jersey is expected to begin allowing casinos to return to 100% capacity within weeks, followed by New York State and Connecticut resorts.
Palms Casino Resort sold
Meanwhile, it has emerged that the Las Vegas Palms Casino Resort has been sold to the San Manuel Band of Mission Indians for $650 million.
The deal, still to be ratified by the Nevada Gaming Commission, follows Station Casinos' purchase of the property in 2016, followed by a $690 million renovation program. The Palms remains closed since the pandemic struck.
Other News You Might Want To See