Online Craps for Canadian Players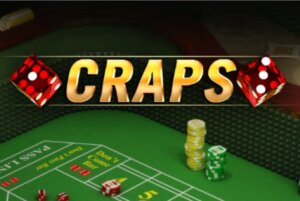 I guess you might call craps the Uranus of casino games – it's the one with the silly name that always gets a laugh. It's thought that the name comes from the French word "crapaud", meaning "toad", but its history is so long that it can be difficult to pinpoint exactly.
Before it picked up its unusual name, some people believe the game was invented by Roman Soldiers, whereas others claim it originates from the middle east before being brought to Europe during the 12th century. The most popular story goes that it was invented by Sir William of Tyre during the Crusades in 1125.
If you're unfamiliar, craps is a gambling game where players make bets on the outcome of each roll of a pair of dice. The version played in America today was formalized by US dice maker John H. Winn, who corrected a flaw in the older versions which players were using to exploit casinos.
The game spread rapidly after this, and by the time Las Vegas was finding its feet as a major gambling town in 1931, it had become one of the most popular casino table games.
Moving on to the dawn of the online casino, software developers were quick to create digital versions of craps in the late 1990s. By the time the internet was truly becoming popular in the early 2000s, you could already find several mature versions of craps available from a variety of different software providers.
We've compiled a selection of our top picks for online craps in the list below.
Top Canadian Casinos for Craps Players
Choosing an online casino can be a difficult task for gamblers based within Canada, so you'll be pleased to hear that we've done the hard work for you!
When compiling the list below we have searched the market to find the casinos offering the best games of Craps with the highest odds, whilst also taking into account a host of other considerations as well.
Security and safety are paramount – we want to ensure you are getting a fair game. We also understand the difficulties faced making deposits and withdrawals too, and know you will be keen to get your winnings quickly should you win.
We've considered all of these things and created this list of our top picks for Canuck Craps players below, but be sure to check back regularly as the industry is constantly evolving.
Casino
Deposit Bonus
What's Good/Bad
Visit The Casino

Great Multi Tier Loyalty System With
Interac & Instadebit Deposits
MGA Licensed

Most Popular Casino Brand In Canada
20 No Deposit Spins For New Players
MGA Licensed

Fast Payouts With No Limitations
Great Selection Of Slots
Excellent Reload Bonuses & VIP Rewards
❓ Why Play Craps Online vs Land Based
To play craps you don't need to learn a lot of complicated strategy like you do to play blackjack or video poker, but you will need to understand how each of the various wagers works.
The large number of different ways to bet can make walking up to a craps table in a land-based casino very intimidating for those who are not yet familiar with the game, a problem that doesn't exist when playing online.
There are other advantages to playing online too, such as these listed below.
Low Minimum Bets
Many land-based casinos will have high minimum bets at their craps table due to a large number of staff required to run the game securely.
Up to four dealers can be required in addition to the pit boss and surveillance staff. It's easy to understand why they need to enforce these minimum bets, but what if you only want to play at small stakes?
Online you are free to play craps from as little as $1 per roll, far less than you are going to find in any land-based casino.
Faster Action
Playing craps on the casino floor can be exciting, surrounded by so many dealers and other players.
The side effect of this is that the in-between stage after each roll can end up taking many times as long as the roll itself, as bets are settled and the table is prepared for the next round.
Playing digitally, the computer is able to take care of all these "housekeeping" tasks automatically and instantly, leaving you free to concentrate on betting, shooting dice, and winning money!
Pick From Different Table Variations
As a game that has been around for centuries, it's no surprise that many different versions of craps have evolved during that time.
When you visit a land-based casino, however, the only variation you are like to find is the most popular one.
Again, it's easy to understand why because of the high cost of running a physical craps table. But even if a casino did want to offer an alternative version of craps there is a possibility that some of those gathered round the table could end up complaining after being confused by an unexpected result.
When you play online you will usually be playing on your own, so it's no problem if you want to mix it up a little and try out a craps game with slightly different rules or odds. There is also a variety of cosmetic variants available online too if that's your thing.
Benefit From Casino Bonuses
Bonuses are one of the best reasons to play any casino game online, and craps is no exception.
Most online casinos offer all new players one or more welcome bonuses on their first few deposits, as well as regular reload bonuses for their returning players.
Using a bonus to boost your bankroll effectively lowers the house edge compared to playing with your deposited funds only, and land-based casinos simply don't offer these kinds of promotions.
No deposit bonuses for craps are very rare due to the low house edge featured in the game.
Types Of Craps Tables
The various different variants of craps come in a number of shapes and sizes. Some of these games have different rules, different ways to bet, and different table designs.
Whilst not all craps players will be interested in playing these modified games, casual gamblers will probably find it interesting to try out some of these alternatives.
The simplified games, in particular, will be of interest to newcomers to casino gaming, whereas higher odds are always of interest to hardcore gamblers.
We've compiled a few of the most common variations to the classic formula below.
Crapless Craps
Just when you thought the name couldn't get any sillier, along comes "Crapless Craps" to burst your bubble. In this game, you cannot lose a "Pass" bet on the "Come Out" roll.
This sounds like a good deal, but of course, something else has to change to accommodate this rule change, and it doesn't end up working out as such a great deal for the player.
The "Don't Pass" bet is removed in Crapless Craps, and when betting on the pass different rules are used, with 11 no longer being a guaranteed win. This hurts your odds considerably, resulting in a house edge roughly 5 times higher than regular old Craps.
This game lost much of its popularity in the land-based casino world some time ago, and rumor has it that only one table in Las Vegas offers the game nowadays. It's still common online, however, which is why we included it on this list.
High Point Craps
Like the previous game Crapless Craps, High Point Craps once again changes a few things that make it seem like a better bet than regular craps, but these features come at such a cost that the overall house edge ends up being higher. The overall house edge is much lower than Crapless Craps at least, at around 2.35%.
The changes to this game center around the "Come Out" roll, where a change to the rules results in a roll of 2 or 3 being ignored whereas if you roll an 11 or 12 you will win immediately.
Additionally, once you have set a point in this game you have to roll a higher number in order to win. You'll find this one in some land-based casinos as well as online.
Simplified Craps
If the descriptions of the last two games make little sense to you, Simplified Craps could well be the game you are looking for.
This game does away with all the complicated wagers and fancy terms, and whilst this does obviously make it an ideal game for beginners and casual gamblers, it also makes it ideal for those who just fancy a quick bet without having to put too much thought into the whole thing.
Just to add though, if you are trying to learn the main game of craps, playing this variation won't help you with that goal.
Just how simplified is this game? Well, you roll the dice and if you throw a 2,3, 4, 10, 11 or 12 then you are a winner. If you roll a 5, 6, 7, 8 or 9 then you lose.
The only problem is, the losing combinations are actually much more likely to land than the winning ones, so this game ends up having a house edge of 2.8% – more than twice as high as regular craps.
Die Rich Craps
This is probably the newest variation on this list having been recently invented by a dealer in Reno, and hasn't really made much of an impact on the land-based casino market as yet. It's sometimes found online though, and it's a fun simplified game so seems worthy of a mention.
This version of craps is played with just one die, which is rolled from a cup rather than being thrown by hand. Players start by making a "Pass" bet before rolling the die, scoring an immediate win if a six is rolled.
If a win is rolled, the player immediately loses. For the remaining numbers, the value rolled becomes the "Point". The player then has up to three more rolls of the die to try and hit their point again.
Similar to the regular game in some ways but much simplified, and with a low house edge – it's worth keeping your eye out for Die Rich Craps.
New York Craps
This game has vastly different rules, even going as far as using a different table layout. Despite its name, this game was actually created in Europe and is mainly played in casinos over in the United Kingdom, not in the US.
The big differences this time around are that the "Come" and "Don't Come" bets have been removed from the table, so players bet on the numbers 4, 5, 6, 8, 9 or 10 directly and you'll need to hit your number on the nose to score a win.
The rest of the bets on the table pay true odds in this game, but the house takes a commission of 5%, eliminating any advantage gained from this.
Live Dealer Craps
All of the games described above are played by a single player and use a random number generator (RNG) to determine the value of each dice roll, instead of an actual pair of dice.
Some players dislike this and don't trust the RNG to give them a fair game, and whilst these reservations are completely unfounded, it's understandable that some people prefer to play with real dice.
Live Dealer craps allows you to watch a real dealer roll the dice and place bets with other players, usually with the facility to chat to them as well if you wish, which results in a game experience much closer to playing craps in a land-based casino.
Minimum stakes are usually a little higher than computerized versions of craps, though not as high as playing in a real casino. The game is also more slow-paced than playing on your own, so your bankroll might just last a little bit longer overall.
Industry leader Evolution presented their Craps Live in November 2020, taking the traditional game to a whole new level and chances are other live dealer providers will soon follow with Live Craps variants of their own.
Bonuses for Online Craps
The low house edge of craps has led some online casinos to restrict the game from play with bonus funds, but the vast majority have simply lowered its contribution percentage instead.
This means you will have to wager your bonus funds many more times when playing craps than you would playing slots. You can find some table-game specific bonuses out there if you look hard enough, but they are often less generous than other types of casino bonuses. Be sure to read the terms and conditions of the specific bonus you are going to use before beginning to play.
Where craps is permitted for bonus play, a popular strategy for completing wagering requirements is to switch between craps and slots as your balance allows.
For example, you could begin your session by playing craps to build up your bankroll, and then play some slots with your profits. If you are unlucky and end up losing a large chunk of your balance you can then switch over to playing craps again, and repeat the process.
This way you can take advantage of the low house edge of craps, and the lower wagering requirements assigned to slot machine games.
Playing Craps on Mobile
Whilst online casinos used to be difficult to play on mobile devices, this is no longer the case.
Nearly all online casino games have been converted from the older Flash standard to the newer HTML5, which is less resource intensive and has higher compatibility with tablets and smartphones.
Not every variant of craps you will find on this page might have been updated specifically for play on smartphones, but the majority definitely will have been.
If you do find a game that doesn't seem to work properly with your mobile device it's worth letting the casino know, as this might hurry them along with getting it fixed.
❓Try Craps Free
Fancy trying out some of the games we have listed on this page for free? You can find several versions of craps available for free play below.
If you wish, you can also jump straight from one of these games to our favorite casino partners to play for real money.